The JKI presentations at NIWeek 2008 were very popular -- the rooms were full to capacity while eager attendees were (unfortunately) turned away at the door due to fire safety concerns. While the size of the audience is a good indication that people anticipated high-quality presentations, we were thrilled to received direct feedback from many attendees, afterward, who stated how much they enjoyed the presentations.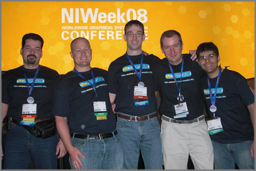 As a thank you, we decided to share some tips, below, for how we pull off high-quality, enjoyable presentations that people will remember:
Have passion

for your what you are presenting -- if you don't care, neither will your audience.

Tell a story

that will relate to the audience -- the story is what people will remember. If they care about the story, they will come looking for more detailed information, later.

Use images as a backdrop

to your story, rather than slides with lots of bullets and small text -- the images set the tone and give people an emotional connection to what your talking about.

Include well-scripted demonstrations

-- show them some LabVIEW, in action!

Keep text to a minimum and use large fonts

-- any text should be mostly subliminal, meaning that the audience should not have to try hard to read it. They should be listening to your story and not reading your presentation.

Stand up next to the screen and talk directly to the audience

, rather than sitting in front of the computer and reading slides -- you want people listening to what you have to say, not reading the slides. Be a good story-teller!

Use a wireless presenter mouse

-- it will untether you from your computer and enable you to interact with your audience

Don't take too long

-- There's nothing worse than not making it to the end of a story. And, make sure to leave time for people to ask questions and make comments.

Know your material

-- you need to be able to give the presentation without reading your notes.
We are excited that JKI has earned a reputation, building on our
success at NIWeek 2007
, for dilivering high-quality, enjoyable presentations and we look forward to trying to raise the bar again next year
Even if you missed our sold-out presentations at NIWeek 2008, you can still check them out by follow the links, below.
We'd love to hear your feedback. What tips do you have for giving great presentations? How might JKI improve our presentations, next year? What are some presentation topics you would like JKI to cover at NIWeek 2009 (next year)?