I'm very happy to announce that JKI has released the JKI State Machine™ to the public as a free download.  This is the very same template that is used by the JKI team, nearly every day, in our products and various projects.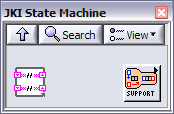 This tool is the direct result of putting some of the best LabVIEW minds together for several years, tasked with the challenge of creating a LabVIEW architectural design pattern that would allow easy coding, readability, and maintenance.  As you might imagine the JKI team has created something truly special that we hope will have a significant impact on LabVIEW users everywhere.
This has been in the works for quite some time and we're excited that the time has finally come to share this tool with you, now.
Please take this challenge: